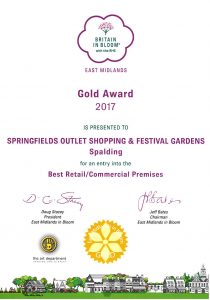 Every year East Midlands in Bloom (part of Britain in Bloom) hold awards for villages, towns and gardens across the region. Springfields Festival Gardens together with the Springfields Outlet Shopping Centre are put forward for the Best Retail/Commercial Premises Award.
From 2013 to 2017 they achieved a Gold Award.
This a remarkable achievement and demonstrates how well standards have been maintained by the Gardens and the Shops.