Springfields Festival Gardens 2021 Spring Blooms  
This year's spring season growing cycle is in full swing and some of our early daffodil varieties are now just about past their best. However, many mid and late varieties are in full bloom throughout the gardens with just a few still reluctant to open fully because of the cold mornings.
Andy Boyton, Head Gardener, believes that our National Narcissus Collection will still have daffodils in colour until nearly the end of April.  The Collection is located behind Chris Beardshaw's Garden. Coming into bloom at the same time will also be our early varieties of tulips with the Gardens moving towards our full display in readiness for our "Festival of Tulips" from 21st April.  All these predictions are of course dependent on the weather conditions, particularly day and night- time temperatures and rainfall amounts.
We would usually be celebrating Springtime in partnership with the Lincolnshire Daffodil Society who would be hosting their annual daffodil competition as part our Spring Flower & Gardening Show.  It would have been their 112th show, but due to the current restrictions it unfortunately has had to be cancelled.  However, daffodils have continued to grow and flower (as they would naturally) and we are therefore paying tribute to the Society, as our "daffodil-loving"  friends, by creating a special pop-up 'Daffodil Spring Flower Display' in the Gardens to represent their very important message - promoting the wide variety of daffodils that are available to help preserve them for the future by encouraging people to grow them in their gardens for their own enjoyment or maybe even to competition standard for their 2022 Show.
Enjoy your visit over the next few weeks and please follow Government Social Distancing and Gathering rules to help control the spread of Coronavirus.
We also welcome any comments and feedback via our email – or through our social media links.
 Festival Gardens 'Spring Blooms' during 2020 may be viewed on our You Tube Video Slide Shows: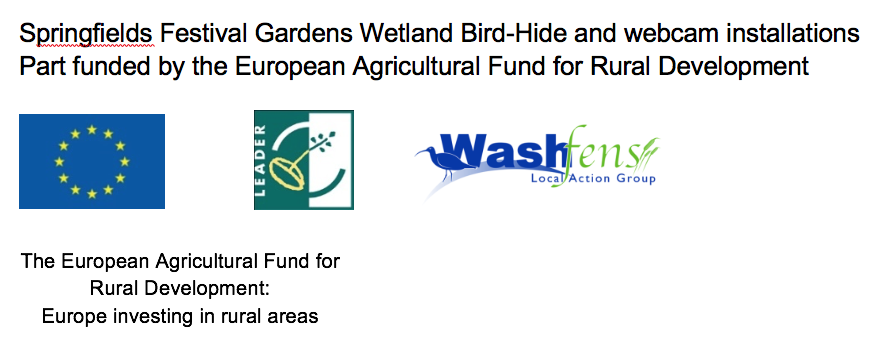 The Springfields Festival Gardens are a beautifully landscaped area, featuring Chelsea-style celebrity showcase gardens, including designs by Charlie Dimmock, Chris Beardshaw, Kim Wilde and Steven Woodhams, and a spectacular Japanese Garden by Sansui Design.
The Gardens were completely redeveloped in 2004, in conjunction with Springfields Horticultural Society, a charity dedicated to the improvement and growth of horticulture and floral design in the Spalding region.
They have welcomed some new additions, as innovative designer, Stephen Newby unveiled a collection of his spectacular stainless steel sculptures throughout the landscaped gardens. The 'blown' steel sculptures are largely based around a water theme, featuring a water pyramid fountain, pillow planters and a specially commissioned 15' 'Kaleidoscope Wheel', situated in the canal.
During Spring the Gardens feature a magnificent display of daffodils, tulips and other bulbs celebrating the gardens close links to the bulb industry.
Open all year round with FREE admission (except during fund-raising events), Springfields Festival Gardens were first opened in 1966 as the shop window for the flower bulb industry, introducing members of the public, amateur gardeners and enthusiasts to a wide range of horticultural experiences.
PLEASE NOTE only assistance dogs are allowed in the gardens.